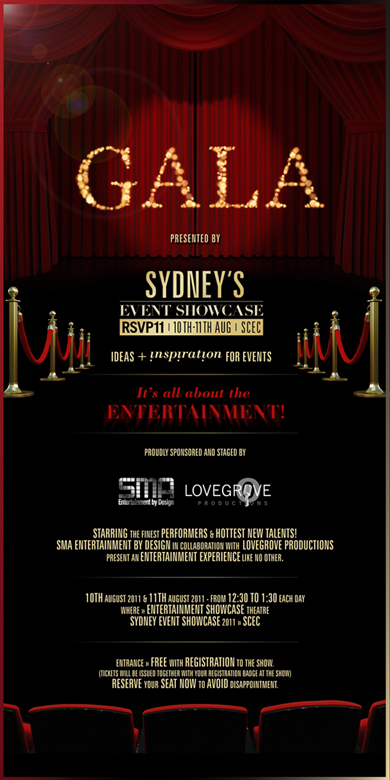 What is Gala?…
Are you responsible for sourcing entertainment for your company's events? If you are a PCO, Event Planner or represent a Speaker's Bureau, chances are you frequently book our shows but never get to see them perform live in action!
We've created an opportunity for everyone needing ideas for adding impact to their events to see some incredible corporate entertainment acts in the same place at the same time!
"GALA" is a showcase of corporate entertainment that will appear on both days of RSVP this year. Starting at 12.30pm it will run for about 45 minutes on both Wednesday 10th and Thursday 11th of August in the Entertainment Showcase Theatre.
A collaboration between two of the country's most respected corporate entertainment companies – SMA Entertainment by Design and Lovegrove Entertainment, "GALA" is proudly presented in association with Sydney's Event Showcase RSVP.
ENTERTAINMENT IS INTEGRAL TO THE SUCCESS OF ANY EVENT…..
This collaboration was born out of a shared belief that entertainment is integral to the success of any event – but that doesn't mean clients can book any old entertainment and their event will automatically be a success!
Both our companies are renowned for producing some of the finest corporate entertainment acts in Australasia. We have access to the best performers in the country, our acts are always on trend, fresh and exciting.
CREATIVE COLLABORATION
Darryl Lovegrove, Managing Director of Lovegrove Entertainment says "I was asked if I had any ideas as to how to enhance the entertainment element of RSVP and I had always wanted to feature a showcase but I needed a creative partner. I've known Dale and Dave since the days of The Three Waiters and they are great guys who produce fantastic shows and have successfully positioned SMA over the last 10 years as one of the leaders of corporate entertainment producers. Even though our businesses are in direct competition, there's always been mutual respect and there's no-one better to be working with."
A 'ONE STOP SHOP' of ENTERTAINMENT IDEAS
Dale Burridge, Managing Director of SMA adds "It is often hard for Bureaus, PCO's or Event Planners to see our acts live. Everyone says to us "How can we get to see your shows?" So we've created a 'one-stop shop' if you like, so anyone responsible for sourcing entertainment can come along and see some fantastic acts in the same place, at the same time".
LET US ENTERTAIN YOU…
As Artistic Director of SMA Entertainment by Design, David Malek is responsible for staging the show and says "There will be a mix of established acts and new ones. We'll be featuring all-girl Violin sensation "String Diva" whose collective talent and incredible costumes wow audiences wherever they perform establishing themselves as the leading electric violin act in Australasia. Visitors will also be among the first to see our newest hit show "Boys in the Band" which celebrates the greatest hits from the most iconic bands of all time – Jersey Boys, The Bee Gees, The Beatles, The Beach Boys and The Jackson 5. Boys in the Band is already in demand on corporate and concert stages across the globe!
Lovegrove Entertainment launched "The Leading Men" almost 7 years ago, with stars of stage and screen such as Ian Stenlake from "Sea Patrol" and David Dixon from "Indecent Obsession" the show is as popular as ever. RSVP audiences will be treated to their famous "Australian Medley" which is Australia's most popular songs, hilariously sung in Italian, "Il Divo" style.
They'll also premiere their new show "Jersey to Motown" featuring top ten hits from Franki Valli and the Four Seasons through to stars of the Motown label, The Jackson 5, The Temptations, The Drifters and Stevie Wonder, this act presents some new rising stars such as TJ Power who starred with Julia Roberts in "Eat, Pray Love".
GIVE YOURSELF A BREAK….
Says David Malek – "There's so much going on at RSVP that people need a break at some stage. "GALA" performs around lunchtime so what better way to recharge than bringing lunch or your coffee along and being entertained by some of the best performers in this industry!
If you source entertainment for your company or suggest acts to clients then this will be the most useful 45 minutes of your life this year!!"
BOOK YOUR SEATS!!!
To ensure you have a reserved seat book your tickets now on-line at http://sydney.rsvpevent.com.au/